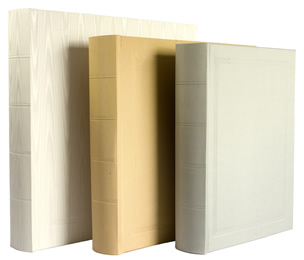 These handmade occasion photograph albums use the finest hand-dyed leathers and elegant silk cloths, in a variety of colours from subtle pastels through to intense gold and silver.  Made in Ludlow occasion photograph albums are suitable as a gift for Weddings, Anniversaries, Birthdays, Christenings, or even as a treat for yourself.
Made in Ludlow occasion photograph albums are fully bound and have an exclusive and unique design that includes their trademark blind embossed four line frame and blind fluted bands on the spine.  As with all of Made in Ludlow's photograph albums, the albums are made-to-order and customers have the ability to specify personal touches to create their very own bespoke album.  Made in Ludlow can accommodate even the smallest details, and offer the opportunity to emboss personalisation onto the front or on the spine of every album in gold, silver or white. 
All of the occasion photograph albums have forty leaves, which are available in ivory or black and are made from chemical free archival quality card.  They are interleaved with delicately patterned tissue, and have a distinctive ivory marker ribbon.  Customers will also have the option to gift wrap their albums in a special tissue lined presentation box. 
The effect is simple and effective; beautiful albums are presented for you to archive truly special and memorable occasions for years to come - click on a product below to view full details and options.